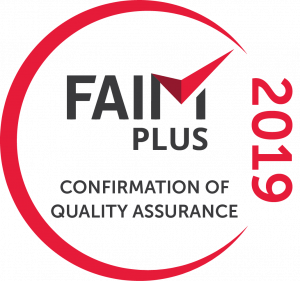 Our focus is to exceed the customers' expectations with careful planning, quality packing, and communication from a professional relocation team. We will take the stress and worry out of the relocation process. We provide training to all staff to ensure superior service in estimating, coordination, packing, loading, storage, safety, delivery and consulting. We compile the results of all client surveys to isolate opportunities for improvement. Every year we recognize superior service and safety by awarding bonuses to employees who consistently provide excellent customer service, low claims and work safely.
Quality Awards:
M. Dyer Global has maintained FAIM certification since 2002. The FIDI-FAIM standard is an accreditation program that provides the world's finest moving companies a customized and periodic, independent assessment from Ernst & Young covering all aspects of the moving process. The independent audit measures sixteen parameters including financial stability, quality of staff including training, responsiveness, claims, paperwork, quality of facilities, equipment and materials, licensing and insurance, as well as environmental "green" policies.
Better Business Bureau rated as A+ for service, reliability, and responsiveness.
Trust the team that has repeatedly won or been a finalist in the Honolulu Advertiser "Best of the Best", the Honolulu Magazine "Best of Honolulu", and Pacific Business News "Best in Business".
American Moving & Storage Association – Pro Mover certified along with RIM certification.