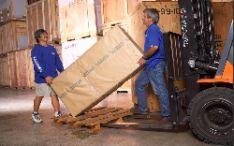 Whether it is your first time making an international or mainland move or if you have moved internationally numerous times, the process may invoke feelings of uncertainty for both you and your family. You may have concerns about adapting to a new culture, finding a new home or school, or even developing new business and personal relationships as your family prepares for this move. We are here to reduce the stress in moving your possessions.
At M. Dyer & Sons Inc, you can trust our agency network of over 500 international agents providing moving services in most major cities and countries around the world to take the worry out of your international or mainland relocation. We will advise you at each phase of the move. For example, what items to move and what items are prohibited. Many countries have restrictions or require the inspection of food or beverage items, wood products, and any major item purchased within the last year. Most destination countries require shipments to arrive with a detailed inventory of the shipment contents and to be packed by professionals.
Shipment process
The moving process starts with small cartons or furniture being loaded into wooden lift vans or crates specially designed for household goods shipments. Then, lift vans are consolidated into steel containers with other shipments for their protection. Larger shipments and consolidations of small shipments are loaded into steel freight containers that range in size from 20 to 45 feet. Most shipments, entering or leaving Hawaii, arrive via the port of Honolulu on the Island of Oahu. A weekly barge service is used to move shipment to the Outer-Islands.
Customs clearance
We can assist with customs clearance in most countries. Many require entry visas. We move hundreds of families internationally to and from Hawaii each year. As a member of FIDI, we have access to up to date in country information around the world. The agents in our network are all fully licensed and insured with trained international moving professionals. Trust our over 45 years of experience to make your international move a worry free experience.
When planning an international move, there are many things to consider:
Language and cultural differences
Renting or buying a home
Schools for your children
Travel documents
Vaccines
Opening a bank account
Transportation
Our professional staff of licensed and insured movers ensures that no matter where you go, you will be surrounded by the comforts of home. From planning for storage stateside to arranging for the delivery of your valued possessions at your destination, we are with you every step of the way. Contact us today for an estimate on international moving, and leave the worry to us!