Inter-State Moving Companies in Honolulu, HI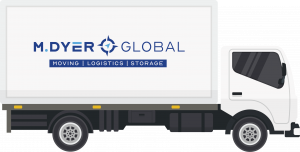 Moving within the Hawaiian Islands is regulated by the State of Hawaii Public Utilities Commission. This means all charges are based on a tariff. M. Dyer Global is licensed to perform these services under PUC# 137-C. Moving between the Hawaiian Islands is based on the final net weight of the shipment plus a charge for each item packed. The charges cover pick up, ocean transportation to an outer island and delivery to a ground floor residence or office. The labor to pack and unpack items is charged per item. Additional charges may apply for elevators, stairs, excess mileage or special services. The average transportation time from packing to delivery between the islands is 4 – 10 days.
M. Dyer Global proudly maintains close, personal communications with every client during each step of their inter-island move. Because we maintain a low turnover rate of personnel, customers can expect experienced, trained, service oriented movers who enjoy their work. We work with quality agents on each of the major islands to provide a safe and positive moving experience.