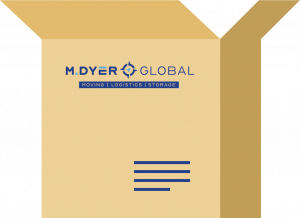 At M. Dyer Global we bring more than forty five years of excellence in moving and storage services to every commercial move. With a complete menu of commercial services available to you and a proactive approach to customer satisfaction our goal is to keep your business interruption to a minimum and remain within your business budget. Your moving coordinator will discuss your various relocation and storage options. We will formulate a moving plan and budget that meets your needs. The M. Dyer packers and drivers will execute your move with guidance from the coordinator and our operations department.
Seamless Moving - We have the expertise to manage all types of commercial moves, from small businesses moving within the same building to hotel renovations or installation of new retail locations.
No Surprises - We believe successful relocations begin with good planning. When you move with M. Dyer Global we will assign a Move Coordinator who will be responsible for your move, start to finish.
Best Value - We strive for minimal downtime when you move with M. Dyer Global. With the industry's best technology, equipment and training, our skilled employees will provide superior service within your budget.
Whether you are reconfiguring your current space, moving across town or relocating overseas, count on the professionals at M. Dyer Global to handle the job professionally, cost effectively and with a move plan focused on your needs. Call 456-4200 or complete our quick quote form for a free no obligation commercial moving estimate today.